February 8th, 2016 at 10:09am ♥ posted by Jenn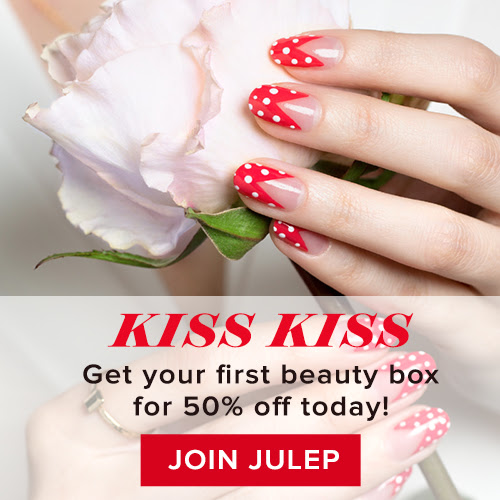 Roses are red, violets are blue, this 3-piece beauty box is just for you! Take 50% off the Valentine's Welcome Box when you join Julep Beauty. The Valentine's Day box features Shawn, a bright poppy crème nail polish that will give you candy-red Valentine's Day nails. The box will include two additional beauty or nail products. You'll be asked to take Julep's 2-minute beauty quiz and they will curate the two additional beauty products for your beauty box based on your quiz answers.
Here are some reasons why you'll love Julep:
Julep is affordable. Every month you get more than $40 of full-size products for just $24.99 per month (tip – prepay for three months at a time and only pay $19.99 a month).
Julep is the only customizable box of full-size, limited-run nail colors and beauty innovations. That means no surprises, no dupes or colors you don't like. You can see what is in your box each month and have the option of swapping out colors/products you already have or don't want.
Julep subscribers get 20% off all single product purchases, free shipping, early access to secret sales. If you are passionate about your polish, that adds up to some amazing savings!
Satisfaction guaranteed – just call to cancel anytime.
Get your Valentine's Day beauty box today! Use promo code XOXOXO to save 50% off your first month of Julep and get this box for just $12.49. OR, you can sign up for three months of Julep and get your first box FREE. Now that is even better than chocolate!
February 1st, 2016 at 9:00am ♥ posted by Jenn
Little Felted Dogs is an adorable craft book that outlines the steps in creating miniature felt dogs using needle felting techniques. The book's author, Saori Yamazaki, offers up instructions on how to create three-dimensional, felted versions of over a dozen different dog breeds – including Pugs, Pomeranians, Corgis, and Dachshunds. Simply gather your needle felting materials and the book, and take your pick of the dog(s) to create!
Buy it!
You can purchase Little Felted Dogs for $12.68 at Amazon.
Disclosure: I received a free product in exchange for my honest opinion, and this post contains affiliate links.
January 31st, 2016 at 10:10am ♥ posted by Jenn
The cold and flu season is officially here, and Purell offers some great tips to help keep you and your family healthy and safe:
Get vaccinated. Even in today's times people die of the flu, so it's essential to vaccinate yourself and your family.
Wash hands often. Wash your hands before and after handling food, using the bathroom, entering public places, and even when visiting family and friends.
Look after yourself or family during an illness. If you're ill or you're caring for someone who is ill, wash and sanitize your hands frequently, and make sure they do the same.
Keep Purell hand sanitizer close at hand. With pump dispensers, travel packs, and miniature bottles you can hook right onto your purse or backpack, there's no reason not to always have Purell within reach.
Purell's advanced hand sanitizer kills 99.99% of illness-causing germs, while also being gentle on skin. Choose Purell's original scent-free formula, or pick up a few seasonal fall/winter scents, such as Sweet Plum and Warm Fall Spice. Take your pick of several convenient Purell Hand Sanitizer products:
Purell Jelly Wrap Carriers: take a 1-oz bottle of Purell with you everywhere.
Purell Hand Sanitizing Wipes: canisters make it easy and convenient to dispense single-use wipes for hands and even faces.
Purell Hand Sanitizer: keep 8-oz pump bottles on your counter or desk.
Visit Purell to see all of their hand hygiene products; and follow Purell on Facebook, Google+, and Twitter.
Disclosure: I received a free product in exchange for my honest opinion.
January 30th, 2016 at 10:00am ♥ posted by Jenn
So in case you haven't been paying attention to current trends, one of the newest fads is adult coloring books. That's right – coloring books for adults (and kids too!). Adult-oriented coloring books give us busy, stressed, overworked and underpaid adults the chance to relax and indulge in a relaxing, pleasurable leisure activity. Coloring can calm the mind and soothe the soul, so it's easy to see why these coloring books have become so popular. Simply pick up a coloring book and your choice of coloring instrument (crayons, pencils, markers, pastels, etc.), and let yourself go.
Lost Ocean: An Inky Adventure and Coloring Book was designed and put together by Johanna Basford, who the New York Magazine call the Queen of the Colorists. Basford aimed to create a gorgeous, exquisitely detailed multi-page coloring book that takes the colorist on a journey under the sea. Illustrations include exotic fish, seahorses and octopi, and exciting pirate treasures.
Shop!
You can purchase Lost Ocean: An Inky Adventure and Coloring Book at Amazon for $10.18. You can also find Johanna Basford's work at JohannaBasford.com. Follow her on Facebook, Instagram, Pinterest, and Twitter.
Disclosure: I received a free product in exchange for my honest opinion. This post contains affiliate links.
January 29th, 2016 at 10:00am ♥ posted by Jenn
Das Boom Industries is a California-based company that started out as an organic farm in Hawaii. The personal care products company believes that in order to take care of ourselves, we need to take care of the planet we rely on. Das Boom Industries' products are equally good for you and Mama Earth, and there are many great personal care items to choose from, including the travel-friendly, great-gift-idea Das Boom Industries Travel Size Lotion & Wash Duo.
The Das Boom Duo features a moisturizing body wash, Das Boom Everything Body Wash, and an equally moisturizing body lotion, Das Boom Everywhere Body Lotion. Both leave skin feeling and smelling great. Choose from several great scents: Bourbon Country, Denali, Detroit, and Kyoto. These items are each $24.00 separately for 8-ounce bottles; the set gives you both to try (3.3-oz bottles) for $20.00.
The Duo set we received to review is in the Kyoto scent. Kyoto is described as a combination of the scents saffron, shiso, and yuzu. Combined, these scents create a "crisp, bright, and spicy" scent – and I think Das Boom nailed it with that particular description. I would definitely say that Kyoto is more of a masculine scent, though I definitely enjoyed the luscious lather of the body wash and the excellent moisturizing and softening the lotion provided.
With Valentine's Day a little over two weeks away, consider giving the gift of Das Boom Industries – with many travel sets and scents available, there's sure to be something for everyone. Check out all of their products at Das Bom Industries; and follow them on Facebook, Instagram, Pinterest, and Twitter.
Disclosure: Das Boom Industries provided me with a free product in exchange for my honest opinion.