March 10th, 2016 at 7:02pm ♥ posted by Jenn
Get your leprechaun on! There's only a week left to get your green-and-gold ready for St. Patrick's Day, and Julep has just the box to help you out. Their Happy Go Lucky 3-Piece Beauty Box features Lucky, a Kelly green and gold coin full coverage glitter polish, Margot, an Old Hollywood gold shimmer polish, and Bronze Shimmer eye glider. This 3-piece gift normally retails for $44 but new subscribers can get the box for 50% ($12.49) when you sign up for Julep's beauty box subscription. Even better – get this box for FREE when you sign up for a 3-month subscription. Use code GLAMROCK to get your discount.
Here are a few reasons why you'll love Julep:
Julep is affordable. Every month you get more than $40 of full-size products for just $24.99 per month (tip – prepay for three months at a time and only pay $19.99 a month).
Julep is the only customizable box of full-size, limited-run nail colors and beauty innovations. That means no surprises, no dupes or colors you don't like. You can see what is in your box each month and have the option of swapping out colors/products you already have or don't want.
Julep subscribers get 20% off all single product purchases, free shipping, early access to secret sales. If you are passionate about your polish, that adds up to some amazing savings!
Satisfaction guaranteed – just call to cancel anytime.
Get your Happy Go Lucky 3-Piece Beauty Box today! Use promo code GLAMROCK to save 50% off your first month of Julep and get this box for just $12.49. OR, sign up for three months of Julep and get your first box FREE. Make this your lucky day!!
March 9th, 2016 at 9:00am ♥ posted by Jenn
**This post contains affiliate links and I will be compensated if you make a purchase after clicking on my links.
If you're a fan of rounder frames in fresh, fun colors, then you'll enjoy Warby Parker's new Windsor Spring Collection. You may recall that, this past December, Warby Parker introduced their new, limited-edition range of Windsor frames, which feature distinctive, circular rims. To embrace the levity, energy and freshness of the new spring season, they've revived the construction of their Windsor collection with expressive new colors and frame shapes to create their Windsor Spring Collection.
Frames in this collection include the Henry, a silhouette from Warby Parker's original Windsor Collection, along with two dynamic new frame shapes: oval Ingles and ever-so-slightly over-sized Milton.
Each pair is wrapped in premium cellulose acetate coils along the rim. The custom coils are hand-cut from a single sheet of acetate at a small Italian factory, where the 100-year-old technique has been perfected.
Here are a few frames from Warby Parker's Windsor Spring Collection
February 22nd, 2016 at 6:25pm ♥ posted by Jenn
Are you looking for the perfect STEM activity for children, ages 8 and older? Consider Groovy Lab in a Box! Groovy Lab in a Box is a monthly STEM kit that encourages critical thinking, problem solving and fun! Groovy Lab in a Box incorporates STEM investigations and an Engineering Design Challenge – all designed around the Next Generation Science Standards. Each box has a retro-themed lab notebook and access to the Beyond…in a Box, a special web portal for additional groovy STEM fun!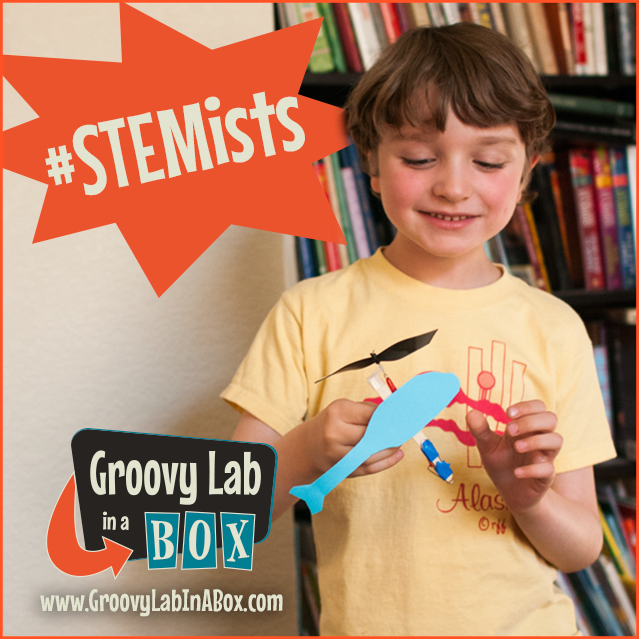 In fact, Popular Mechanics magazine included Groovy Lab in a Box in its 100% Wholesome Holiday Gift Guide – a compilation of some of the best toys that promote scientific inquiry and engineering.
Take advantage of Groovy Lab in a Box's sale and check it out for yourself! You can get 50% off "Fly With Me" Single Box! Just use code FLY50 at checkout. Hurry and be sure to give your STEM Friends a groovy heads up while supplies last. US residents only.
Engineering Design Challenge: You are a starry-eyed aerospace engineer and a groovy world traveler. You dream of taking off in the blue, gliding where the air is stratified and floating down to Peru. Using only the materials from your Groovy Lab in a Box, can you design, build, and launch an airplane generating thrust with a propeller which travels fifteen feet? STEMists, get ready to pack up and fly away!
Investigate: Parachutes; Weight, Lift, Drag and Thrust; Bernoulli's Principle; Action–Reaction; Force of Air Game; Wings are Lifters; Catapult Airplanes; Airplane Kites; "Deux" Loop Glider ; Helicopter with Propeller, build various types of aerospace vehicles and much, much, more.
STEMists do the "E" in STEM – Engineering Design Process for little engineers. Ages 8+
February 19th, 2016 at 9:00am ♥ posted by Jenn
Green Kid Crafts is designed for kids 3-10, and was built out of a passion for hands-on fun and learning. Every month's Discovery Box is packed with up to 8 unique and engaging STEAM science and creativity kits designed to foster a child's curiosity, creativity and confidence while helping to raise the nation's next generation of creative leaders. You'll also find detailed instructions for all the projects, plus exclusive online extras that provide bonus articles and DIY activities about the month's theme to extend the learning and fun.
Now you can try a FULL-SIZED Green Kid Crafts Discovery Box for free! This offer is valid until supplies last. You will be automatically enrolled in a Green Kid Crafts monthly subscription at a price of $19.95/month, and may cancel at anytime. The first month is free except for $6.95 shipping and handling. One free box per household. To get your free Discovery Box go here!
Also, Green Kid Crafts has partnered with Barbara's Bakery, Dolphin Organics and more to bring you one wonderful winter sweepstakes. These amazing companies are celebrating the month of February by giving away goodies to help spread love, health and fun! Two lucky winners will get a 1-year subscription to Green Kid Crafts, a $250 prize package of cereals from Barbara's Bakery, a $50 gift card to Dolphin Organics and a $50 gift card to Expect Natural Boutique. The last day to enter is February 29, 2016. What a prize! Go here to enter this amazing giveaway >> http://ow.ly/XUQBW
February 18th, 2016 at 8:53pm ♥ posted by Jenn
It's Red Carpet season, which means star-studded nights filled with of glitz and glam. Mimic your favorite celebs with some sparkle from Julep's After Party rewards-inspired catalog. PLUS, get a free three-piece glitterati-worthy gift worth ! The free gift includes Oscar (a multi-dimensional gold glitter polish), Kerry (a gold-fluted polish), and the Party's Over Glitter Nail Polish Removal Kit. To redeem your gift, add the On the List Gift Set to your cart (along $30+ of products) and use code AFTERPARTY at checkout.