December 18th, 2014 ♥ 9:21am • Written by Jenn
Shopping for a prom dress should begin with an honest assessment of one's body. Curvier girls, for instance, will want to pay careful attention to the curves they want to flaunt, versus those they'd rather minimize or hide altogether. Petite girls should consider styles and colors that will help to accentuate and even hint at height. Prom dresses should be chosen based on your body type, but also your skin tone, and of course the season during which your prom will be held. Whether you shop this season's prom dresses UK or look to last season, it's important to shop for your body, and of course keep in mind your preferences, as well as your budget.
Flattering your body type
Formal dresses are available in several common lengths and cuts – from the strapless, floor-length evening gown to the playful cap-sleeved, knee-length full-skirted ensemble, you'll find that there are numerous choices available. Add into the equation many types of shoes, tights, hosiery, and of course shawls, shrugs, and wraps, and you'll find that you'll be able to mix and match cuts and designs to best dress your body.
Girls who wear plus sizes should opt for dresses that hit just below the knee, or mid-ankle. These lengths are incredibly flattering, yet don't hide you away or age you.
Thin girls can experiment with all styles, but consider going light on layers, as too many layers — particularly if the layers are comprised of tulle or a similar fluffy material — can actually hide you away.
If you're tall, try to maintain balance by going with a simplistic hair-style that won't add unnecessary height; and wear flats or low-heeled shoes. Conversely, girls who are shorter than average may benefit from a hair-style that offers a little more volume, as well as shoes with higher heels.
Highlighting your hair and skin
Once you've chosen a style of prom dress, it's time to think about its color. Your hair color and skin tone play an important role in the colors that look best on you. Fair-toned ladies, for example, do best with bright colors and mid-range neutrals; while those with light to average skin tone will do best in bold hues or simplistic black or white. Darker skinned girls will shine best in jewel tones.
Choosing accessories
Accessories should be last on the list for prom preparations, but certainly not least in terms of importance. Your chosen accessories should complete your look, and complement your chosen attire. Keep the concept of opposites in mind: elaborate gowns are best accessorized with simple pearl or ball earrings and one delicate necklace, while more simply cut and fashioned gowns can be made to look their very best with eye-catching, glitzy earrings and coordinating necklaces, chokers, or collars.
December 16th, 2014 ♥ 4:25pm • Written by Jenn
Does someone on your Christmas list want a new computer? Or maybe you want to play Santa for yourself. Either way, HP has a great deal going on until February 1st, 2015: use coupon code 15LESS75 to save $15 on orders of $75 or more, and you'll get free shipping, too! Happy shopping at HP.com!
Psst…while you're at it, be sure to enter to win one of four Michael Bastian smartwatches from HP!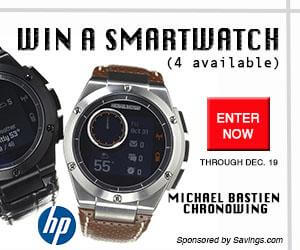 Disclosure: this post contains affiliate links.
December 16th, 2014 ♥ 4:10pm • Written by Jenn
You have until the end of December 17th to take advantage of this sweet deal at Gap: buy any three items, and you'll save 40% off your entire order! No coupon code, minimums, or exclusions to worry about: simply shop at Gap.com and add at least three items to your shopping cart, and during the checkout process you'll see a sweet savings of 40%. Also, FOUR or more items gets you a savings of 50%! That's hard to beat, so head to Gap.com today!
Disclosure: this post contains affiliate links.
December 16th, 2014 ♥ 3:46pm • Written by Jenn
To help promote the upcoming launch of Purex PowerShot Detergent, Purex will be giving one lucky winner a brand new Whirlpool washer and dryer set! Additionally, 300 runners-up will each receive a free bottle of Purex PowerShot Detergent! And just for entering the sweepstakes, you'll receive a coupon good for $1 off any bottle of Purex PowerShot Detergent. Enter today!
Disclosure: this post contains affiliate links.
December 16th, 2014 ♥ 3:33pm • Written by Jenn
As the holidays roll around, you want to make sure you get the best gift for the lady in your life. Here is a good place to start.
Disclosure: This post contains affiliate links provided by Postpresso.