Disclaimer: All posts must include the following disclaimer: The reviewer has been compensated in the form of a Best Buy Gift Card and/or received the product/service at a reduced price or for free.
"Smart" lights and light bulbs are currently all the rage, and since Best Buy treated me to a set of them I now see why! Just as it's ultra-convenient to be able to schedule appointments, deliveries, meals, parties, and other social events from the convenience of my smartphone and tablet, so is being able to schedule my home's indoor lighting – and tweaking colors to fit needs, moods, and occasions.
But before I delve into the amazingness that is Philips hue, first allow me to recommend that you take a look at your existing router to determine if it can support the number of WiFi connections you'll need in your home, and consider upgrading to the NETGEAR Nighthawk DST AC1900 Router from Best Buy (Best Buy has a great price on the router and its accessories; also, Best Buy and NETGEAR came together to offer an exclusive deal: get the NETGEAR Nighthawk DST AC1900 Router and free Geek Squad setup and one free year of Geek Squad support!). Notable features include: 4 LAN ports + 2 USB ports, support for a minimum of 10 wireless devices, and a Dead Spot Terminator Adapter to bring a strong WiFi signal to the dreaded dead zone.
⇒ Read my review of the NETGEAR Nighthawk DST AC1900 from Best Buy!
All right, so let's talk smart lighting: smart lighting refers to WiFi-enabled light bulbs, and sometimes hubs. The light bulbs screw right into any traditional light bulb socket (such as floor lamps, desk lamps, end table lamps, and so on and so forth). Their WiFi capabilities mean they can connect to your router, or to a special hub that has a wired connection to your router. In turn, you can use an app on your smartphone or tablet to control the lights.
Say hello to Philips hue, and goodbye to forgetting to turn lights on or off, dim bulbs, and boring whites. Philips hue enables you to experience home lighting in a new way – a better way. Simply replace your existing light bulbs with Philips hue LED bulbs, connect the bridge to your router, and install the Philips hue smartphone/tablet app (Android or iOS), and with a few finger taps you'll be able to:
choose from 16 million colors – who needs white when you have hot pink or pale turquoise?
take your pick of light recipes – special themes that enable all of your hue bulbs to work together to create a gorgeous mood setting
create your own light recipes for unique lighting to suit your mood and preferences
schedule your lights to turn on (with the light recipe of your choosing) and off at set times
try out third party apps for added effects, scheduling abilities, and light effects (such as flicker and strobe)
Setting up Philips hue was incredibly easy. It really is just a matter of replacing our existing light bulbs with Philips hue bulbs, connecting the bridge to our router and powering it on, downloading the official Philips hue app, then launching the app and following the prompts to complete the network setup. (Check out Meet Hue: Get Started for a quick installation guide and helpful tips.)
How we use Philips hue in our home:
Scheduled lighting: since we live in Pennsylvania, darkness comes relatively early; to combat fatigue and keep spirits high we set our Philips hue lights to come on at 4:00pm on the gentle Relax light recipe, then switch to a custom light recipe that's brighter and slightly cooler at 5:00pm, then switch back to Relax at 9:00pm, then off at 11:00pm.
Custom Light Recipes: as I mentioned for our scheduled lighting, we use both preset and custom Light Recipes. Some of Philips' presets are gentle and relaxing, while others are brightly colored and definitely designed with specific moods and ideas in mind. For that reason I love being able to create custom Light Recipes – such as "Living Room", which is a slightly cool white at 100 percent brightness.
Mood Lighting: you know how movie theaters have subtle recessed lighting in shades of orange and yellow along walls and floors to help you see? We've re-created that in our living room, with a custom Light Recipe aptly named "Theater". Now we can enjoy movies on our TV and still be able to see well enough to find popcorn, drinks, and the remote!
Helping our son: our nine year old son, Ryan, is autistic, and he struggles with anxiety and visual/audible over-stimulation. Believe it or not, being able to change our living room lighting to his favorite calming colors (purple, magenta, and "very light aquamarine") helps him to relax and unwind when he gets home from school.
If you're going to enhance your home with Philips hue, I highly recommend you also pick up Philips hue Go. Philips hue Go is everything hue, but with the added convenience of being able to literally be taken on the go, as it's rechargeable, and a full charge will last for up to three hours! Shaped like half of a sphere that sits at an upward angle, hue Go is a wireless smart light with a power button that can be pressed repeatedly to cycle through the five included Philips Exclusive Natural Dynamic Effects (Cozy Candle, Sunday Coffee, Meditation, Enchanted Forest, Night Adventure; there are also two whites – one semi-bright, one very bright). And, just like hue lights, hue Go can controlled via the Philips hue app – create schedules and choose from 16 million colors. Some third-party hue apps also offer dynamic Light Recipes for hue Go, so you're not stuck with Philips' five presets or solid, non-changing colors.
How we use Philips hue Go in our home:
fun accent lighting
gentle, warm-colored lighting for theater lighting (it's a part of our "Theater" Light Recipe)
gentle, warm-colored glow for use as a nightlight
as a small spotlight for photography – or hunting down lost keys or Wii remotes
With Christmas coming oh-so-soon and the desire to spruce up your home for family and loved ones, give your lighting a makeover with the beautiful, vibrant, fun, convenient, and energy-efficient Philips hue and Philips hue Go!
Buy it!
Visit Best Buy to buy the Philips hue A19 Starter Kit (includes three bulbs + bridge) for $199.99 (SALE!) $169.99; and Philips hue Go for $99.99!
Be sure to check out all of Phili[s' products at Best Buy; and follow Philips on Facebook, Google+, Instagram, Pinterest, Twitter, and YouTube. And, stay up to date with Best Buy by following them on Facebook, Pinterest, and Twitter!
The Christmas season is a wonderful season to partake in. Even the mundane day-to-day tasks and to-dos are somehow a little more magical, simply because of the air of festivity and anticipation that seems to follow us wherever we go. A trip to the grocery store, for example, may bring to mind ideas for holiday party treats and Christmas dinner recipes; a quick stop in the pharmacy for some cold medicine may yield some great stocking stuffer ideas for the grandchildren.
And then there is the joy of making holiday wishlists and shopping lists. But along with the joy of buying gifts to delight loved ones is the stress and hassle of the expense. But this Christmas season you have the opportunity to reduce how much you spend in the here and now by choosing to shop through a website such as CataloguesOnline.co.uk. CataloguesOnline.co.uk makes it easy for you to check off a few of the items on your holiday shopping list. Imagine being able to give the gift of a big ticket item without worrying about the huge chunk it would take out of your holiday gift-giving budget.
Here's how http://www.cataloguesonline.co.uk works:
browse the available online catalogues (actual available catalogues include Naturally Close, Littlewoods, jacamo, and Argos, just to name a few!)
select the item(s) you'd like to purchase (such as a new television, a laptop computer, a new wardrobe full of clothing, or even furniture or appliances!)
complete the checkout process by opening a credit account
enjoy your new merchandise
make payments monthly until your balance is paid off
Why it pays to utilize CataloguesOnline.co.uk for expensive purchases:
get your merchandise now, pay the bill over time (great for Christmas gifts, or an urgent purchase need such as a new washer for the home or a laptop for school)
no need to worry about going over your allotted budget
improve your financial reputation and budgeting skills by making monthly payments
some catalogues are compatible with individuals with poor credit or a shaky financial history
…and did I mention the convenience of having your ordered merchandise right away?
Disclaimer: All posts must include the following disclaimer: The reviewer has been compensated in the form of a Best Buy Gift Card and/or received the product/service at a reduced price or for free.
We're a family of four, but the number of internet-capable devices we have in our home significantly outnumber us. In addition to four desktop computers, four laptop computers, two Android tablets (mine and the husband's), two iPads (the kids'), and four cellphones; we also have four printers, four network-attached storage devices, a WiFi-enabled digital camera, six gaming consoles, five handheld gaming systems, four internet-ready televisions, several smart LED bulbs + hubs. And if those 40+ devices weren't enough, we have some other random devices floating around the house that utilize our home network. To be perfectly honest, I never gave much thought to the number of devices we connected to our home network, until suddenly we were having bandwidth issues, not just with our WAN (wide area network aka connection to the internet via our ISP, Xfinity) but with our local area network. When our old router struggled to handle appropriate bandwidth streaming and prioritization for our devices, and firmware upgrades didn't fix various bugs, I knew it was time to upgrade.
Enter the NETGEAR Nighthawk DST AC1900. Available from Best Buy for $299 (or $279 if you pick up an open-box router), the Nighthawk is the perfect home network connectivity upgrade for your family. And with the impending holiday season not only bringing more free time (holidays + vacation!) for streaming family favorites on Netflix or Hulu, but beloved family members and friends who may want to browse the internet while they're visiting, you'll want to make sure your home network can support everyone in your home and all of the devices they utilize.
NETGEAR Nighthawk DST AC1900 features:
a NETGEAR + Best Buy exclusive, perfect for a quick setup and excellent performance for simple and complex home networks alike
AC router + included Dead Spot Terminator Adapter = no dead zones (additional DSTs can be purchased individually if you need to remove multiple dead zones from your home)
built to support home networks with 10+ devices
offers device priority (by IP address or MAC address) for fast, uninterrupted bandwidth for the devices that demand it (perfect for streaming Netflix or online play video games)
four LAN ports + 2 USB ports for connecting devices and USB drives
comprehensive admin interface offers basic and advanced setup options
includes free Geek Squad setup and one year of Geek Squad phone and web support
Best Buy treated us to an early holiday gift in the form of a NETGEAR Nighthawk DST AC1900 Router + DST Adapter bundle. Setting up the Nighthawk couldn't have been simpler: everything was packaged together neatly, clearly identified, and an included quick start guide made sure I didn't miss any crucial steps. All I had to do was remove everything from the packaging, disconnect our old router and replace it with the NETGEAR Nighthawk, power on the router, then grab my laptop and wait for my browser to redirect me to the NETGEAR Genie (or, alternatively, type in the default admin URL – 192.168.1.1.). The NETGEAR Genie is a browser-based interface that helps you set up your new router. It prompts you for your connection type as well as any required credentials (such as an account login for a DSL connection), and then you're in! You can start browsing the website with high speeds and a secure, firewalled connection, or login to the NETGEAR admin to tweak your home network settings.
Our home network has been powered by the NETGEAR Nighthawk DST AC1900 for a little over a month now, and I love it. Our upload/download speeds, particularly on our wireless devices, have increased significantly – my prior download speed on my Android tablet was 65mbps, and several tests after switching to the NETGEAR Nighthawk averaged to 82mbps. Our wired connections are also doing great. And I love using NETGEAR's easy-to-follow admin backend to prioritize bandwidth for certain devices – namely, the gaming consoles and my laptop. Now we can enjoy TV shows and movies from Netflix as well as our home media servers (connected to the NETGEAR Nighthawk via USB 3.0, of course) without any lagging; and it doesn't matter what game my husband is playing or how many YouTube videos our eleven year old daughter is watching, because the NETGEAR Nighthawk knows to prioritize my desktop and laptop above anything else, so Mama can get her work done without any annoying interruptions.
Oh, and that dead zone, also known as the master bedroom? The NETGEAR DST Adapter took quick care of that. It simply chills in an outlet and provides a strong connection to a secondary network of sorts, which plugs right into our primary network. By that I mean that the NETGEAR Nighthawk DST AC1900 Router broadcasts our home network as [Our_Last_Name], and even though the DST Adapter has a network SSID of [Our_Last_Name]Bedroom, if you use the DST Adapter's network you can still access devices on the "main" network. Pretty cool, right?
Other cool features of the NETGEAR Nighthawk:
Dual-band networks: the Nighthawk offers the choice of a 2.4gHz network, a 5gHz network, or both! Our older devices need the 2.4gHz, but our newer ones make use of the faster 5gHz network.
Guest networks: there's no need to share passwords or fumble for the WPS (WiFi Protected Setup) button to give visiting family members and friends network access; we simply turn on the guest network (or keep it on if we're having company for an extended period of time) and pass out business cards with the network name and password information.
Parental controls: with an eleven year old daughter and a nine year old son, keeping an eye on what they're accessing and when is high up there on the list of router needs. NETGEAR makes it a breeze to schedule allowed connection times and to block unwanted content by keywords and URLs.
NETGEAR apps: I highly recommend NETGEAR Genie for managing your NETGEAR router; and NETGEAR WiFi Analytics to determine the best channel(s) to use for your network. (I linked to NETGEAR's Android apps, but these are also available for iOS)
Buy it!
Purchase the NETGEAR Nighthawk DST AC1900 for $299 from Best Buy! This bundle includes the router and one DST; additional NETGEAR DST Adapters are $69.99 (or $63.99 if you opt for an open box).
Be sure to check out all of NETGEAR's products at Best Buy; and follow NETGEAR on Facebook, Google+, Instagram, Pinterest, Twitter, and YouTube.
Last week, Julep released their 2015 Holiday Catalog which got me feeling very merry! Check a few things off your list this week and build the perfect beauty gift for the leading ladies in your life. Plus, all gifts come in present-ready holiday packaging. Here are my favorite Julep gift ideas:
Perfect Nail Gift: Julep has hundreds of polish colors waiting to be selected for customizable 3, 6 or 12-piece polish gifts. Pick 6 polishes for $48 (regularly $90)
Luscious Lip Crayons: Full-coverage, limited-run, holiday-exclusive lip crayon colors are available now! A hydrating, creamy formula glides on to deliver long-lasting color. Pick three crayons for $40 (regularly $60.
Gloriously Glossy Gift: The subtle color and unstoppable shine in Julep's signature lip gloss will keep your lips mistletoe-ready. Ready to gift in an artist-illustrated sleeve. Pick four glosses for $50 (regularly $80).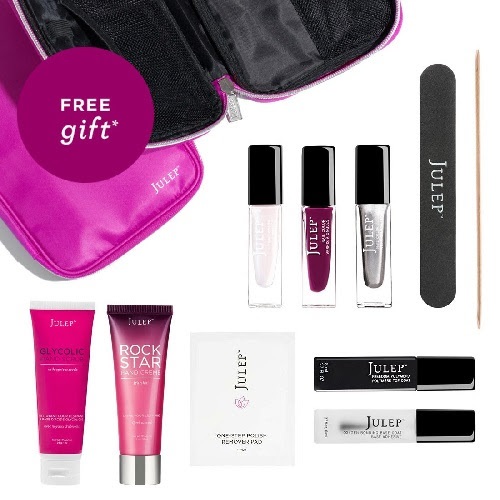 Plus, when you get any of these gifts, you'll get a little something for yourself too – for FREE! Through 11/18, you'll get a free 10-piece gift with any purchase of $40 or more! Just add the Roam for the Holidays gift set to your cart and use code JETSET at checkout.
Today only you can save a sweet 50% on KNEX building sets at Amazon! These would make a great Christmas gift or anytime gift for kids, tweens, and teens!
Disclosure: this post contains affiliate links.