August 31st, 2015 at 7:04pm ♥ posted by Jenn
I participated in an Ambassador Activation on behalf of Influence Central for Gevalia Iced Coffee with Almond Milk. I received product samples to facilitate my review as well as a promotional item to thank me for my participation.
There's just something about summer. The hot, hazy days seem to drag on endlessly, and then all of a sudden the kids' first day of school is just a week away, then three days away, then the night before. Then it's the morning of, and I'm one of those moms running around like a chicken without its head trying to get everyone and everything together and herded down to the bus stop with enough time for last-minute pictures, hugs, and whispered well wishes for a great day. And as the school year picks up, so do the daily chores, tasks, and to-do lists.
This morning, in the midst of doing seven things for two people at once, I made a dash to the fridge for a great breakfast treat – Gevalia Iced Coffee with Almond Milk in my favorite flavor, Caramel.
Gevalia Iced Coffee with Almond Milk perks:
real 100% Arabica blend Gevalia coffee
nine grams of protein, 170 calories, and a good source of calcium and other vitamins in each 11.1-ounce single-serve carton
combined with creamy almond milk provides the right amount of sweetness
three delicious flavors: Caramel, Mocha, and Vanilla
choose from 11.1-oz single-serve cartons or 33.8-oz multi-serve cartons – remember, sharing is caring!
packaging is recyclable
Each Gevalia Iced Coffee with Almond Milk contains nine grams of protein plus plenty of flavor to get and keep you going. Whether you walk your kids to the bus stop, drive them to school, or find yourself doing both if you have multiple kids in multiple grades, Gevalia Iced Coffee with Almond Mik's convenient grab-and-go 11.1-oz sized single-serve cartons with screw-on lids will tag along effortlessly.
Shop!
You can purchase Gevalia Iced Coffee with Almond Milk in your choice of Caramel (my favorite!), Mocha (my husband's favorite!), or Vanilla (always a favorite) in 11.1-oz single-serve/toss-in-your-purse-and-go size, or in 33.8-oz multi-serve/share-with-friends size. Make sure you have ice cubes on hand for an extra cold iced coffee if that's your thing, and you may even want to add a dollop of whipped creamy and a drizzle of chocolate syrup or miniature chocolate chips for an ultra-decadent school morning or afternoon kid pick-up treat. Find a local store, or shop online!
August 25th, 2015 at 10:19pm ♥ posted by Jenn
**This post contains affiliate links and I will be compensated if you make a purchase after clicking on my links.
You might remember an incredibly sophisticated, smooth-lined frame that Warby Parker released in collaboration with Ghostly International two years ago in the summer of 2013. It was called Curtis and it was unbelievably popular. In fact, this first Ghostly collection sold out in2 days!
Well, after many sketches and prototypes, Warby Parker is proud to introduce Henning, a new frame design that represents the progression of Warby Parker and Ghostly International's shared ideals of creativity and innovation.
Henning is a minimalist yet meticulous pair of glasses that epitomizes quality, character, and a sense of purpose. Crafted from premium acetate and Japanese titanium (both matte), this frame combines sharp looks with super-durable construction. It also features a few more noteworthy details, like wraparound temples and a unique cut-out keyhole bridge. Henning is available in optical and sunwear.
August 16th, 2015 at 9:00am ♥ posted by Jenn
Disclosure: This post contains affiliate links.
Have you heard? Amy Schumer is wearing a Julep polish in her latest movie, Trainwreck, and Allure Magazine tracked down the exact shade! Amy is wearing Alaina, a classic driftwood taupe shade perfect for her low-maintenance character in the movie. Love the shade? Save 15% at Julep.com with code PRETTY15 now!
Or, read more about Amy's makeup look from the movie:
Everyone's Obsessing Over Amy Schumer's Killer Nail Polish in Trainwreck—So We Tracked Down The Shade
August 15th, 2015 at 8:31pm ♥ posted by Jenn
**This post contains affiliate links and I will be compensated if you make a purchase after clicking on my links.
Are you looking for the perfect accessory? Look no further than Stella & Dot. From wallets and necklaces to clutches and charms, Stella & Dot has you covered for all your accessory needs. Check out their latest Fall Collection, as seen on blogger Jacey Duprie. Shop Stella & Dot jewelry today!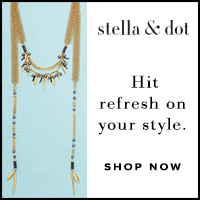 August 13th, 2015 at 9:05pm ♥ posted by Jenn
Just in time for the busy school season is a great promotion from Label Daddy – save 20% on any order with coupon code USFAMILY20! Label Daddy recommends labeling all of your child's clothing, sports equipment, electronics, and other personal belongings that your child takes out of the house. Label Daddy labels keep them from getting lost or mixed up with others. These labels are great for adults too! — Put them on your sunglasses or eyeglass case, phone, camera, sports equipment, tablet, e-reader, hats, clothing, and more.
These labels are super durable peel-and-stick washable labels — they're washer/dryer safe, microwave safe, dishwasher safe and UV resistant! Label Daddy labels are also fun and attractive. You design your own labels! Pick from tons of colors, sizes and logos, including Disney and Marvel characters, MLB, NBA, and NHL team logos, other sport and fun logos, and more. Their exclusive laminated coating gives labels an extra layer of protection and is a must for camp! These labels are made in the USA and shipped directly to you worldwide.
Remember, coupon code USFAMILY20 will save you 20% on your Label Daddy order!